Pool Access Update
Changes to Swim Reservations as of June 15th
There will be drop-in recreational swim during regular operating hours.

Weekdays: Two lanes for open recreational use from 1 PM – 5 PM
Weekends: Four lanes for open recreational use from 11 A.M. to closing

Lap lane/diving well reservations will still be available for lap swimmers and for family use for any reason.
Reserved lanes no longer have limitations as to the number of swimmers in a lane. Swimmers from mixed families are also allowed.
Swim reservations have been set to the full hour, as there is no longer a requirement for wipe downs between shifts.
Please respect time limits on both sides of your reservation and exit the pool promptly, especially if the next swimmer is present. The large display red-numbered pace clock can guide you on when time is up.
Lifeguards will return to Fairbrae this summer. As a reminder, lifeguards are a member benefit. Parents & guardians remain responsible for their children at the pool at all times and especially when visiting outside of lifeguard hours.
When finalized, the 2021 summer lifeguard schedule will be posted for membership viewing.
Swim guests will be allowed in reservable lanes/diving well only to join the Fairbrae member in their reserved lane. Swim guests may not reserve lanes on their own.
Please make a reservation when using the pool.
Off-season Lifeguard Hours
Please closely supervise your family members and guests while on Fairbrae premises. Please respect the pool rules, and make sure to wear your sunscreen!
Summer Lifeguard Hours
Typically, summer swim season begins on Memorial Day and goes through Labor Day each year. On weekdays, we will have Lifeguards on deck from 12 PM – 8 PM. Weekend coverage is from 1 PM – 8 PM, and will see higher guard density.
Fairbrae is in the planning stages of bringing lifeguards back due to the re-opening of California. Please stay tuned for more information soon.
Wading Pool Supervision
As a general rule, one foot of water is just as dangerous as 4 feet or even 9 feet! Please remember to supervise your children at ALL times when using the wading pool! Unsupervised children will be asked to leave the baby pool until they are accompanied by an adult.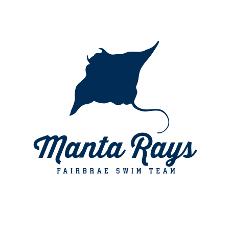 The Fairbrae Manta Ray Swim Team provides an opportunity for swimmers age 5 through 18 to develop their swimming skills, sportsmanship and fellowship. With the Manta Rays you will find a supportive team environment, low-key competition and positive attitudes.
2023 Manta Rays Season
Our season starts on April 28th with our annual Welcome Back Dinner, where returning families join in welcoming new families for a fun dinner and season overview presentation.
May 1st: The season moves forward with daily (M-F) practices starting on Monday, May 1st.
May 19th: Manta Ragin' will be the evening of May 19th, and is a fun-filled social where we showcase all of the volunteer opportunities at swim meets, answer questions, and share fun stories from past seasons and experiences. Remember, if your swimmer swims at a meet, a parent need to also volunteer for a shift — unless a parent joins our board of directors in one of the open roles.
June 3 – July 15 Swim meets begin June 3rd with our Blue & White practice meet. All of our swimmers, coaches, and volunteers have a practice meet with just our own team. We remind ourselves how everything works while in a no-stress non-competitive setting, as well as set "seed times" for all new swimmers ahead of our official swim meets. One of the great things in having baseline, or seed times, is that your swimmers (new and old) can pursue personal bests throughout the rest of the season! (No swim meet July 1 in observance of the July 4th holiday).
We conclude the 2023 season with an awards banquet and celebration on the evening of July 15th, following the league-wide Championship Meet at Fremont High School earlier in the day.
Manta Rays is an amazing, fun and supportive program and we hope to see you at the pool!
---
Swim Meet Locations:
Summer Swim Lessons
Small group Summer Swim Lessons are available mid-June through early August for registration for those 3 years old and above.
Private Swim Lessons
Private lessons are only available to members at this time. Contact office@fairbrae.com if you are a member and interested in private lessons in the off season.
---
For Members Only:
Fairbrae works with independent contractors that are well qualified and work extremely well with all age groups.
For inquiries, please contact swim@fairbrae.com or one of our preferred instructors below. Please keep in mind that all instructors at Fairbrae are third party, and that the you will be discussing payment and scheduling individually.
Aaron Johnson: Hello I'm Aaron, a swim instructor based in Sunnyvale. I have over 28 years experience teaching swimming to kids and adults. My students typically improve very quickly, whether they are complete beginners or need refinement with their swimming technique.

I customize each lesson to the needs of you. I'm a teacher in my professional career with lots of experience with special needs students. I know swimming can be a fearful experience for many, but with my patience and encouraging teaching style I always see lots of improvement. I emphasize proper swimming technique, as that is how one excels in the water. I prefer one-on-one swim lessons, but under certain circumstances I can teach a joint lesson. I like to start teaching around age 4 and up. That includes includes adults.
Contact: I prefer people to text me at my cell number: (408) 529-8700
If you are interested in becoming a preferred instructor at Fairbrae, please contact the office directly at office@fairbrae.com.
POOL RULES
Warm weather means pool weather! Let's all follow the rules to make sure that we can continue to enjoy Fairbrae for generations to come!
GENERAL POOL RULES
No running on the pool deck.
No horseplay.
No hanging on the lane lines.
No glass in the pool area.
No "rough housing" or "horseplay". This includes no pushing or dunking.
"Swim diapers" must be worn by all children who are not toilet trained. This
policy applies to both pools.
No food or gum in the pool.
Children should be supervised by an adult if lifeguards are not present.
No supporting floatation devices (i.e: water wings or lifejackets)
No headfirst diving permitted anywhere in the pool.
No open sores/wounds in the pool.
Please shower before entering the pool.
DIVING BOARD RULES
The diving board is off-limits unless a lifeguard or other Fairbrae staff is present.
Only one person on the diving board at a time.
Only one bounce is permitted on the board.
No flips of any kind are allowed off of the diving board.
Only jump off the front of the board facing toward the water.
Wait for the lifeguard's signal before diving off of the board.
When the diving board is in use, the diving well is off-limits to swimmers.

POOL COVER POLICY
Fairbrae is a self-service facility! If necessary, please carefully remove ALL pool covers before using the pool.
If possible, please replace the pool covers at night, as this helps keep the utility bills down!

The lifeguards and club management team have complete authority – vested by the Board of Directors – in the pool area. Please respect the rules and be safe!